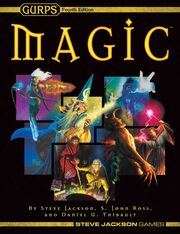 GURPS Magic is a 240 page rulebook for GURPS 4th Edition with content by Steve Jackson, S. John Ross and Daniel U. Thibault. Most of the spells are slightly reworked versions of Classic Edition spells from GURPS Classic Magic, GURPS Grimoire, and a few other places. Additional information for magic appears in GURPS Fantasy and GURPS Thaumatology.
Principles of Magic
Edit
This chapter covers the core rules involved in the standard magic system. Included are the base rules spell classes, such as Area, Blocking, Information, Melee, Missile, Regular, and Resisted spells.
Magic Items
Edit
Covers the key concepts of Magical items under the standard system, including Quick and Dirty and Slow and Sure enchantment methods.
Spell under the standard system are divided into Colleges, some spells count as belonging to more than one college. Some spells, and even some Colleges, can't be learned without knowing enough spells from one or more other colleges. In some cases, a single spell entry may represent multiple variations that need to be learned separately.
Variations
Edit
This chapter discusses Clerical magic (with Sanctity and Power Investiture), Ritual Magic, Improvised Magic, Syntactic Magic, and Symbol Magic (including Runic Magic). All of these variations are explored in greater detail in GURPS Thaumatology.
This chapter covers the rules for Alchemy: Elixirs, Charms, Alkahest, Homunculus, Philosophers' Stone, and Magically Potent Materials.
Expansions
Edit
Classic Edition
Edit
4th Edition
Edit
The concepts in this rule book were expanded with GURPS Fantasy and then GURPS Thaumatology. While GURPS Fantasy touches on a few mechanics in this work it is GURPS Thaumatology that is the main tool kit expansion to GURPS Magic.
GURPS Magic was clearly rushed to print as it makes references to spell names that only existed in the Classic GURPS Magic and Grimoire (Steal Health in the Wraith rather then Steal Vitality write up, for example). It also needless duplicates the description of what is effectively the same spell (Planar Summons[1] and Summon Demon[2])
External Links
Edit
Codex Arcanum - "A truly huge list of thousands of GUPRS Spells, collected, complied, edited and modified."
References
Edit
↑ GURPS Magic pg 82
↑ GURPS Magic pg 155
Community content is available under
CC-BY-SA
unless otherwise noted.